T-Shirt Elephant offers a number of unique apparel printing services that you will not find anywhere else online. Our commitment to quality has driven us to find the best ways to decorate apparel no matter what type of design you would like printed. Our team at T-Shirt Elephant has the expertise to determine which print method is ideal for your design and ensure we produce the best results. For full-colour or photographic images we often use our Direct-to-Garment printing method or our Perma Press Vinyl method. For larger orders and orders with solid colours, we often use Screen Printing. We also offer embroidery services by request and special customization for sports teams and clubs, both of which have been made easy for you to design. Whatever your design is, regardless of how many shirts your looking to order, T-Shirt Elephant has you covered.

Screen Printing
Screen Printing is one of the earliest known methods of printing and is still used today to print a variety of items, such as apparel, signs, and even electronics. The process involves coating a mesh screen with waterproof emulsion and creating a stencil (an area of open mesh, not coated with emulsion). Ink is passed through the stencil (open mesh area), most often using a squeegee, and directly onto a substrate such as a t-shirt or any other type of garment. Like most technical processes, screen-printing has been revolutionized by new technologies and equipment that have made the processes automated to ensure prints come out perfect. We at T-Shirt Elephant are screen-printing junkies, and we are always searching for a better way to print t-shirts, whether its new equipment or tweaking an existing process. In the world of t-shirt printing, not all prints are created equally. We only use the most cutting edge screen-printing equipment and the highest quality screen printing inks to print your design. Our printing team has an unmatched level of experience and know-how, which ensures each and every order will have the right colours, perfect design placement, and will never fade or crack in the wash.
Back to top

Direct to Garment
Direct to Garment Printing is one of the newest methods in existence for printing on apparel. This print method uses a specially formatted inkjet printer, which prints soft hand, water based ink, directly into the fabric of a garment. DTG printing uses CMYK ink, which allows the process to perfectly reproduce photo images, full colour artwork, and gradients. Screen-printing has trouble reproducing these types of images and is better suited for designs that use solid colour. With DTG printing, we have no design restrictions and this allows us to offer our customers the ability to print any design they want on a shirt, something most printing companies do not offer. Direct to Garment printing is the future of t-shirt printing. This brand new process allows us to produce an extremely realistic look that cannot be achieved with screen-printing in many cases. Direct to Garment printing is also best suited for small orders of apparel that use complex multi-colour artwork. Direct to Garment printing uses eco-friendly water based ink that leaves an incredibly soft feel on garments that will never wash off or fade. T-Shirt Elephant has state-of-the-art Direct to Garment equipment, which ensures our prints standout and will stand the test of time.
Back to top

Perma Press Vinyl
Perma Press Vinyl is a brand new decoration method that allows us to print full colour images on high quality vinyl material that is then pressed into your apparel. This print method works on any type of fabric; whether it's a light or dark colour, a polyester, nylon, or performance wear blend, perfect print has no limitations. Our vinyl printer and cutter is state-of-the-art, which ensures your design will have vibrant colours and will never fade, crack, or peel in the wash. This process is used mainly on products that multi colour screen prints cannot be done on, such as bags, and performance wear.
Back to top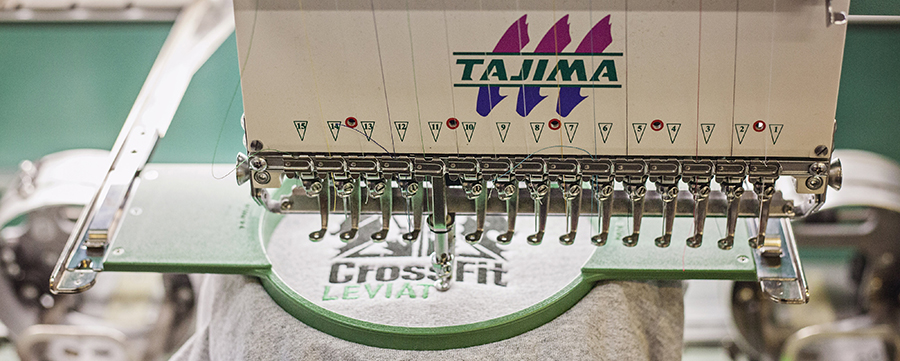 Embroidery
Embroidery is best suited for decorating high value apparel like hats, polo shirts, jackets, aprons, or thick fleece garments. The appearance of embroidery is professional, clean, and durable, which makes it a favourite for corporate apparel and uniforms. T-Shirt Elephant is proud to offer a first-class embroidery service to our customers. We are one of Canada's leading embroidery companies, and are able to provide our clients high quality embroidery services at very competitive prices. From custom hats and polo's to professional looking jackets and fleece, we can embroider on any product and add lasting value to your custom apparel. Just like our screen-printing process, we strive to offer the highest quality embroidery for our clients. To make our goal a reality, we've invested in brand new high-end embroidery equipment, as well as a wide range of thread colours, which help bring your digital designs to life. To get a quote for embroidery, please contact one of our customer service representatives at 1 (844)593-5855 or email orders@tshirtelephant.com and we'd be glad to help you place your order.
Back to top
Design Review & Repair
At T-Shirt Elephant, we go to lengths to ensure your design will look the way you want it to when it's printed on a t-shirt. That's why, as a free service to our customers, our staff do their very best to fix pixelated artwork, adjust placement to ensuring artwork is centred, and remove background colours and boxes on uploaded images. If your design is extremely pixelated or the colours chosen will be difficult to see when printed, our staff will notify you by email before we print your order.
Back to top

Team Apparel
As our printing team at T-Shirt Elephant are all huge sports fans, printing personalized orders for teams and clubs are one of our favourite orders to print. Our easy to use Design Studio allows users to simply add custom names and numbers to apparel without having to design a different shirt for each team member. Our names and numbers are printed using high quality vinyl, which we can print in any colour to match your team logo if required.
Back to top